This example is for Wiring version 1.0 build 0100+. If you have a previous version, use the examples included with your software. If you see any errors or have comments, please let us know.
4N35 General purpose optocoupler by BARRAGAN http://barraganstudio.com
Optocouplers enable you to control one circuit from another circuit with no electronic connection between the two circuitsfor example to control a toy or device (switching it ON or OFF) from the Wiring hardware without tempering with the toy circuit. Just interrupt the line you want to control and attach both ends to the S1 and S2 signals. Internally the Optocupler has an LED that's why the connection and code looks like the LED example, when the Wiring board sets the pin 8 to HIGH the internal LED turns ON activating a an internal light sensor that enables the flow of electricity between whatever is connected to S1 and S2. There are different types of optocouplers but the functioning is very similar the 4N35 is just one type and it is useful for hacking toys running on batteries or small power adapters etc. It is always very useful to consult the datasheet of the optocoupler you're using for specific needs.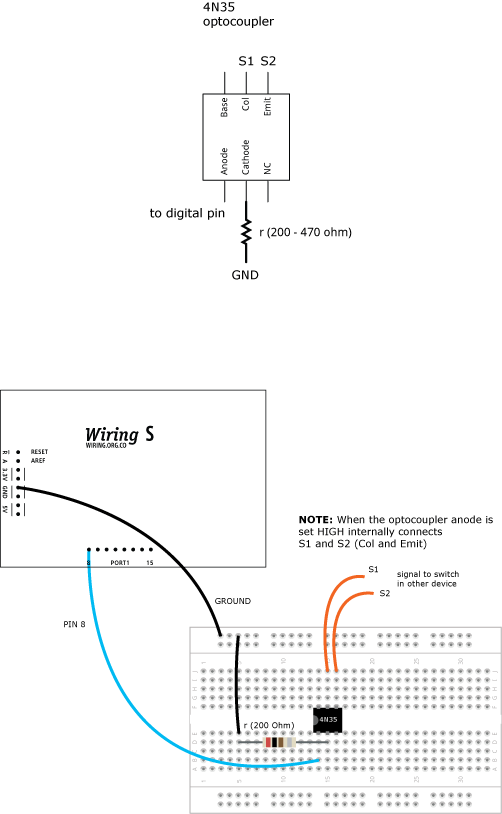 int

 optocouplerPin = 8;  void setup()
{
  pinMode(optocouplerPin, OUTPUT);  // sets the digital pin as output
}

void loop()
{
  digitalWrite(optocouplerPin, HIGH);  // connects S1 with S2
  delay(1000);                         // waits for a second
  digitalWrite(optocouplerPin, LOW);   // disconnects S1 from S2
  delay(1000);                         // waits for a second
}